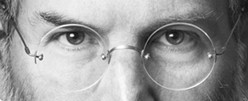 Un regard et un visage dénotant une grande intelligence et beaucoup de malice, celui de Steve Jobs, qui vient de nous quitter. Un visionnaire, l'inventeur du Mac, grâce à qui j'associe travail et plaisir.
« The light that burns twice as bright burns for half as long – and you have burned so very, very brightly. »
(Extrait d'un dialogue de Blade Runner, auquel je ne peux m'empêcher de penser en réfléchissant à la vie et à l'oeuvre de Steve Jobs).